I'm new here but very well known on the D*A*M Forum (stompboxes.co.uk)
Got too many Guitars& need funds for a new one. Will be going on ebay at the weekend if they don't sell here. Prices include UK postage, I'll have to calculate cost for overseas. I'm open to offers & trades.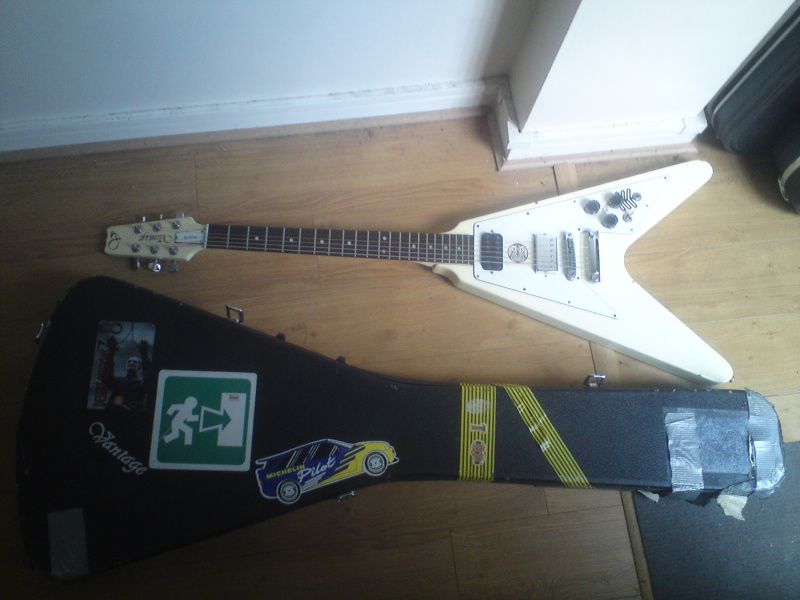 Vantage FV575 late 70's Matsumoku with orig hardcase. I've owned since 1996 & thought I'd never sell but it ain't getting played anymore. Gigged & worn, hinges broken on case, bridge pickup is from a Squier Tele but I'll include the original, has a Gibson tailpiece. £220.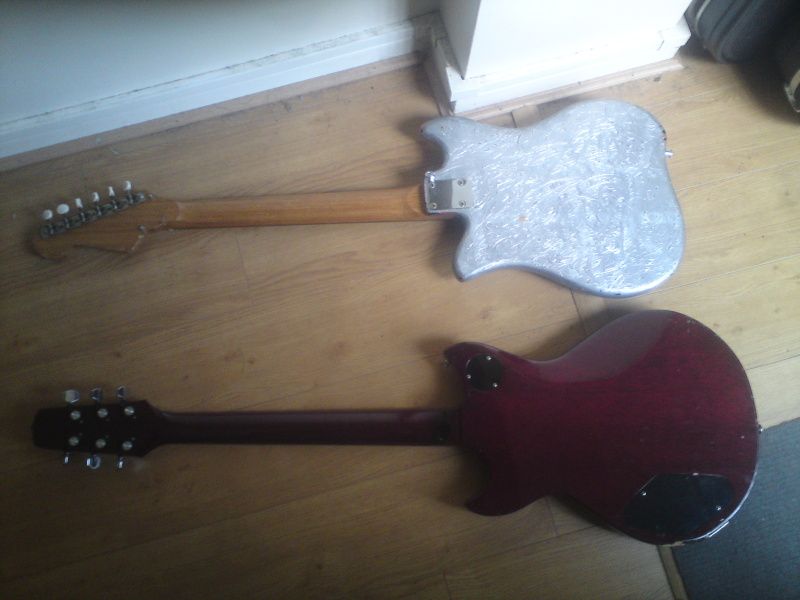 Westbury Standard early 80's Matsumoku. Gigged, worn and rocks like a bitch, could do with fret dressing but still plays really well with correct intonation. Rockfield pickups - very bright & fairly high output. £150.
Teisco MIJ 60s / 70s with bizarre textured silver paint & red showing through. Squier Tele neck pup, Bamboo nut, crude & crusty. Used as a lapsteel, so the action is super high & the strings would actually hit the pup if it were put back to normal. However, I will include the original pots, wiring & pup. £30.
Avon Rose Morris Les Paul jnr MIJ 70s. I had to add a shim in the neck pocket to make it playable & the Gordon Smith bridge too. Plywood body, fat neck, a bit wobbly, a dodgy switch that kinda works, weird pups, but it actually sounds OK. £60
Columbus SG - not selling
Satellite T/90 MIJ 70s Thru-Neck strat, very solid construction with brass dot inlay & original brass nut, Gordon Smith pups & wiring which is tempramental as it's from the guitar I smashed. Incredible sustain with the through neck & through body stringing. £90.
Cremona Luby 3/4 scale Nylon string Acoustic. 60s / 70s made in Czechoslovakia. Decent condition, really sweet tone, could do with some bridge shaving to sort intonation. £30.